---
from the January 2007 issue
---
Professor Stephen Hawking visits Israel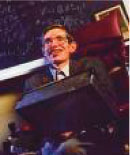 Professor Stephen Hawking visited Israel for an eight-day visit. The world-famous physicist is best-selling author of A Brief History of Time. Professor Hawking met with teenage scientists in an event organized by the British Council at the Bloomfield Museum of Science in Jerusalem. Professor Hawking met Prime Minister Olmert and gave a public lecture to over 1,000 people at Hebrew University.
Also during his visit here, he visited the Weizmann Institute and Tel Aviv University and met representatives of the Israel Academy of Sciences.
---
Reprinted from the Israel High-Tech & Investment Report January 2007
Click HERE to request further information.
Click HERE to go BACK.