---
from the February 2007 issue
---
Israeli high-tech capital raising in 2006 reaches $1.62b.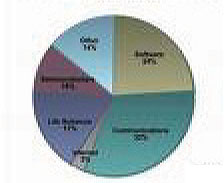 The following are the findings of the Quarterly Survey conducted by the IVC Research Center, provider of venture capital and private equity research in Israel. This Survey reviews capital raised by private Israeli high-tech companies from Israeli venture capital funds and from other investors. The Survey is based on reports from 80 venture investors of which 45 are Israeli management companies and 35 are other - mostly foreign - investment entities In 2006, 402 Israeli high-tech companies raised $1.62 billion from local and foreign venture investors, 21 percent above the $1.34 billion raised in 2005 and 11 percent above 2004 levels.
In the fourth quarter, 105 Israeli high-tech companies raised $477 million, a 25 percent increase from the $381 million raised by 87 companies in the third quarter and an 80 percent jump from the $264 million raised in Q4 2005.
Seventy-three companies attracted more than $1 million each in Q4. Of these, 11 companies raised between $5 million and $10 million each, 8 companies raised between $10 million and $20 million each, and 5 companies raised more than $20 million each. The average company-financing round was $4.5 million, compared with $4.4 million in the previous quarter and $3.0 million in the fourth quarter of 2005.
In 2006, Israeli VCs invested $651 million in Israeli high-tech companies, about equal to investments made in 2005 ($655 million) and 2004 ($665 million). The Israeli VC share of the total amount invested in Israeli high-tech companies was 40 percent, compared to an average of 43 percent in the previous seven years and 49 percent in 2005. The remainder came from other investment entities, mostly foreign.
"Capital raised by Israeli high-tech companies in 2006 was the highest in five years," said Zeev Holtzman, Chairman of IVC Research Center and Giza Venture Capital. "Foreign participation in investments in Israeli companies increased in 2006 and we expect foreign investment in 2007 to remain similarly high." First investments made by Israeli VCs were 43 percent of the total amount invested by Israeli VCs in 2006, equal to 2005 levels. The average First and Follow-on investments were $2.32 million and $0.87 million, respectively.
In the fourth quarter, Israeli VCs invested $178 million, 37 percent of the total amount invested in Israeli high-tech companies. This was 25 percent above the capital invested by local VCs in the third quarter and 36 percent above the capital invested in Q4 2005. First investments by Israeli VC funds were 55 percent of their total investments in Q4, versus 44 percent in the corresponding period in 2005.
Israeli VCs invested $60 million in foreign companies during 2006 (in addition to their investments in Israeli high-tech companies), compared to $95 million in 2005 and $107 million in 2004. Two (totaling $10 million) of the 33 investments were first time investments, and the remainder were follow-ons. In the three major sectors, capital raising was nearly even in 2006 as 24 percent was raised by the Communications sector, 23 percent by the Life Sciences and 22 percent by Software companies. Semiconductor firms accounted for 10 percent of capital raised, the Internet for 5 percent and other sectors for 16 percent.
One hundred and seven Communications companies attracted $393 million, compared to $469 million (35 percent of the total) raised in 2005 and $430 million (29 percent) raised in 2004. While the Communications sector attracted the highest sums, as in the past seven years, its 24 percent share of total capital raised was at its lowest level, well below its seven-year average of 35 percent. In Q4, 25 Communications companies attracted $106 million (22 percent) with 4 companies attracting over $10 million.
Life Science companies, with $369 million raised, accounted for 23 percent of the total raised in 2006. This compared to 21 percent in 2005 and 22 percent in 2004In the fourth quarter, 24 Life Sciences companies attracted $117 million, 25 percent of the total capital raised. In the fourth quarter, 22 Seed companies attracted $54 million, accounting for 11 percent of Q4 capital raising, compared to $20 million (5 percent) in Q3 and $22 million (9 percent) in Q4 2005.
---
Reprinted from the Israel High-Tech & Investment Report February 2007
Click HERE to request further information.
Click HERE to go BACK.