---
from the May 2013 issue
---
Berkshire Completes Iscar Acquisition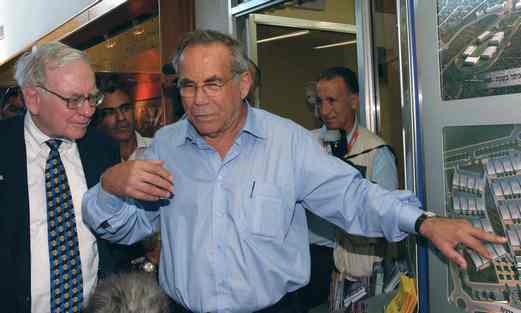 Warren Buffett and Steff Wertheimer
Warren Buffett's Berkshire Hathaway Inc. (BRKA, BRKB) has acquired for $2.05 billion the remaining piece of an Israeli metalworking company that it had bought a majority stake in seven years ago.
Berkshire purchased the remaining 20% stake in IMC International Metalworking Companies, called Iscar, from the Wertheimer family, the founders of the firm. They had sold the first 80% to Berkshire for $4 billion in 2006, meaning the company doubled in value since the initial transaction.
Iscar, based in Tefen, Israel, was Mr. Buffett's first overseas acquisition for his Omaha, Neb., conglomerate, which makes candy, sells jewelry, operates power plants and runs a railroad. Iscar, one of the leading makers of metal-cutting tools, has flourished under Berkshire, opening new plants, expanding its product offerings and acquiring rivals, including Tungaloy, a Japanese cutting-tool manufacturer.
Iscar employs about 12,000 people, up from about 6,500 at the time of the first deal.
"As you can surmise from the price we're paying for the remaining interest, IMC has enjoyed very significant growth over the last seven years," Mr. Buffett said Wednesday in a statement announcing the deal.
Mr. Buffett has frequently praised Iscar's managers in public for how they've run the company. In his annual letter to shareholders in February 2012, he called them "brilliant strategists and operators" who run Iscar in a manner that " continues to amaze us."
Berkshire Hathaway's initial acquisition of Iscar was the largest-ever foreign investment in an Israeli company. In Israel, it was hailed at the time as a seminal transaction symbolizing a vote of confidence in the country's economy and its geopolitical stability by a celebrated investor known for conservatism. After an initial announcement of the deal, the transaction was completed during a month-long summer war with the Lebanese Hezbollah military, whose rocket attacks shut down northern Israel, where Iscar is based.
Some Statistics
Israel is the 100th smallest country, and has about 1/1000th of the world's population. Only 65 years old, 7 million people strong (less than Virginia), and smaller in size than New Jersey, surrounded by enemies, under constant threat and possessing almost no natural resources, and yet?
Relative to its population, Israel is the largest immigrant-absorbing nation on earth. It has absorbed 350% of its population in 60 years.
Israel is the only country in history to have revived an unspoken language.
Since the founding of the state, Israel has won more Nobel Prizes per capita than any other country other than Switzerland. It has more laureates in real numbers than China, Mexico and Spain.
Israel has the 8th longest life expectancy (80.7 years), longer than the UK, US, and Germany.
Israeli films were nominated three years in a row for the Academy Award's Best Foreign Film.
Israel is the only country that entered the 21st century with a net gain in its number of trees, even more remarkable -- in an area that's mainly desert.
Over 90% of Israeli homes use solar energy for hot water, the highest percentage in the world.
Israel will be the first country to host a national electric car network.
Israel is ranked in the top five Cleantech countries of the world, and operates the world's largest desalinization plant.
Israeli companies are producing the largest solar energy production facility in the world.
Defying the Odds
Israel is the only country whose indigenous population returned to its native land after 2,000 years of forced exile.
There are 26 official Muslim states in the world, and 18 official Christian states, but there is only one Jewish state.
---
Reprinted from the Israel High-Tech & Investment Report May 2013
Click HERE to request further information.
Click HERE to go BACK.