---
from the July 2011 issue
---
Mazor's new Renaissance robotic spinal surgery system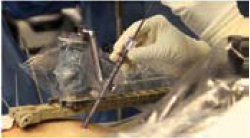 Israeli Mazor Robotics has unveiled its new Renaissance spinal robotic surgical guidance system. The device takes advantage of the same technology inside Mazor's SpineAssist , but improves on usability through new hardware and software. The Renaissance system has already received both FDA clearance and EU's CE Mark of approval
Renaissance features an entirely new design and human interface, as well as next-generation hardware and software technologies. These are designed to increase surgical safety as well as extend the range of clinical applications, enabling osteotomies, transfacet and translaminar-facet implant placements, in addition to procedures such as spinal fusions and scoliosis corrections currently performed with Mazor Robotics' technology. Renaissance also serves as a platform that will support future clinical applications, such as robotic-guided cranial surgeries.
Continuing Mazor Robotics' commitment to safety, Renaissance reduces radiation protocols for preoperative CTs by up to 50%, which means patients will be exposed to significantly less radiation. The company also collaborated with surgeons on developing surgical tools and technological enhancements for Renaissance that further reduce the potential for human error.
---
Reprinted from the Israel High-Tech & Investment Report July 2011
Click HERE to request further information.
Click HERE to go BACK.