---
from the September 2009 issue
---
India to acquire anti-aircraft missile system from Israel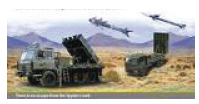 India will soon acquire anti- aircraft missile system from Israel in a bid to bolster its aging defenses and protect its troops and tanks from any aerial threat, a senior Indian Defense Ministry official said Tuesday.
"The Indian Defense Acquisition Council, headed by Defense Minister A.K. Antony and comprising the three service chiefs, has finally cleared a multi-billion dollar deal to procure anti- aircraft missiles from Israeli Aircraft Industries Rafael. The Low- level Quick Reaction surface to air missile called Spyder will help to protect India's tanks and armoured vehicles against enemy's air attack," the official said, on condition of anonymity.
The Spyder is a low-level quick-reaction surface-to-air missile system which uses a combination of active radar missiles and infrared missiles to track and intercept jets, helicopters, unmanned aerial vehicles and precision guided munitions. The Spyder system has 360 degree engagement capability and the missiles can be launched from full-readiness state in less than five seconds after a target is acquired.
The Spyder's kill range is from less than one km to more than 35 kms and at altitudes from a minimum of 20 meters to a maximum of 9 kilometers. The system is capable tracking up to 60 targets at a time and can be operated in all weather conditions.
---
Reprinted from the Israel High-Tech & Investment Report September 2009
Click HERE to request further information.
Click HERE to go BACK.